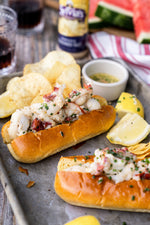 Let's give a shoutout to our favorite crustacean: Lobster! Recreate these absolutely irresistible Lobster Rolls with a delicious dash of Sylvia's Soulful Seasoned Salt that turns up the flavor and makes these rolls even more elegant! A Lobster's best friend is Sylvia's Soulful Seasoned Salt.  Prep Time: 13 minutesCook Time: 2 minutesServings: 4  Ingredients: 1 lb cooked lobster meat (buy fresh or frozen), or meat from 2 or 3 medium size lobsters 2-3 tbsp mayonnaise 1 celery rib finely diced, optional ½ tsp lemon zest ½ tbsp lemon juice 1 tbsp chives 1 dash Hot sauce ¼ tsp Sylvia's Soulful Seasoned Salt...
---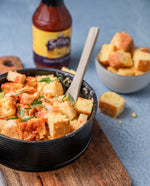 Looking for the perfect weeknight recipe? Sylvia's got you covered with the traditional BBQ Chicken and Apple Bread Pudding! It is the ultimate recipe for summer! Prep Time: 45 minutesCook Time: 35 minutesServings: 2  Ingredients: 1 package (8-1/2 ounces) Sylvia's Cornbread Mix 6 tablespoons butter, divided 1 large sweet onion, thinly sliced 2 cups diced cooked chicken 2 large eggs, beaten 1 cup half-and-half cream 1 teaspoon salt 1/2 teaspoon pepper 1-1/4 cups shredded Monterey Jack cheese 1 small green apple, peeled and diced Minced chives 2/3 cup barbecue sauce, divided Sylvia's Sweet Cookin', Dippin' & Moppin' Sauce Instructions: Prepare cornbread according to...
---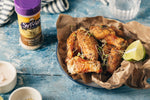 A hint of citrus that will keep you coming back for more. Prep Time: 10 minutesCook Time: 40 minutesServings: 8Ingredients: 4 pounds chicken wings (if using frozen make sure they are completely thawed before cooking) 1/2 cup flour 1 teaspoon salt 1/2 teaspoon pepper 1/4 cup butter 1 tablespoon Sylvia's lemon pepper seasoning (more to taste) cooking spray Directions: Preheat your oven to 450 degrees. Prepare a baking sheet with alumni foil and a baking rack.  Rinse then pat chicken wings dry with a paper towel and set aside. Whisk together flour with salt and pepper then place in a shallow...