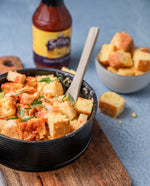 Looking for the perfect weeknight recipe? Sylvia's got you covered with the traditional BBQ Chicken and Apple Bread Pudding! It is the ultimate recipe for summer! Prep Time: 45 minutesCook Time: 35 minutesServings: 2  Ingredients: 1 package (8-1/2 ounces) Sylvia's Cornbread Mix 6 tablespoons butter, divided 1 large sweet onion, thinly sliced 2 cups diced cooked chicken 2 large eggs, beaten 1 cup half-and-half cream 1 teaspoon salt 1/2 teaspoon pepper 1-1/4 cups shredded Monterey Jack cheese 1 small green apple, peeled and diced Minced chives 2/3 cup barbecue sauce, divided Sylvia's Sweet Cookin', Dippin' & Moppin' Sauce Instructions: Prepare cornbread according to...
---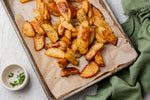 Homemade potato wedges are more delicious than store-bought, if one has the perfect recipe. Try this recipe that creates a work of flavor with Sylvia's Secret Seasoning, paprika, dry rosemary fine, and more. Potato wedges have never been more appetizing. Prep Time 15 minutesCook Time 30 minutes Ingredients:3 large steak potatoes washed and peeledSylvia's Secret Seasoning2 tbsps. olive oil2 tsp. paprika2 tsp. onion powder2 tsp garlic powder3/4 tsp black pepper1 tsp salt3/4 tsp. dry rosemary fine (not too coarse)1/2 cup parmesan cheese gratedfresh chopped parsley (optional) Instructions: 1. Preheat oven to 400 F.2. Bring a pot with water to boil.3. Meanwhile, wash,...
---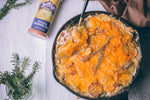 What's better than potatoes? Cheesy and soulful potatoes! Here's to another comforting dish the entire family can (and will) enjoy.  Prep Time: 20 minutesCooking Time: 60 MinsServings: 10 Ingredients: 2 lbs Russet Potatoes, peeled and sliced in 1/8 inch rounds2 lbs Yukon Gold Potatoes, peeled and sliced in 1/8 inch rounds1 medium sweet onion, thinly sliced1/4 cup butter4 cloves garlic, minced1/4 cup all-purpose flour1/4 teaspoon onion powder1/4 teaspoon smoked paprika1/2 tablespoon dried parsley1 teaspoon of sea salt1/2 teaspoon fresh ground black pepper1 cup low sodium chicken broth2 cups 2% milk2 cups freshly grated sharp cheddar (reserve 1/2 cup for top)1 cup freshly grated...