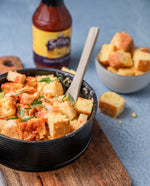 Looking for the perfect weeknight recipe? Sylvia's got you covered with the traditional BBQ Chicken and Apple Bread Pudding! It is the ultimate recipe for summer! Prep Time: 45 minutesCook Time: 35 minutesServings: 2  Ingredients: 1 package (8-1/2 ounces) Sylvia's Cornbread Mix 6 tablespoons butter, divided 1 large sweet onion, thinly sliced 2 cups diced cooked chicken 2 large eggs, beaten 1 cup half-and-half cream 1 teaspoon salt 1/2 teaspoon pepper 1-1/4 cups shredded Monterey Jack cheese 1 small green apple, peeled and diced Minced chives 2/3 cup barbecue sauce, divided Sylvia's Sweet Cookin', Dippin' & Moppin' Sauce Instructions: Prepare cornbread according to...
---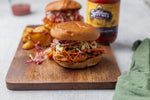 Create this simple restaurant favorite for your family! This flavorful recipe is the perfect meal to be shared by everyone. With mouth watering tastes from ingredients like smoked paprika, chili powder, cayenne pepper, and Sylvia's Cookin', Dippin' & Moppin' Sauce this dinner will be a new favorite.  Prep Time 10 minCook Time 4 - 6 hours Ingredients:1 1/2 cups Sylvia's Cookin', Dippin', & Moppin' Sauce3 lbs. boneless, skinless chicken thighs1 1/2 tsp chili powder1 1/2 tsp smoked paprika1/2 tsp garlic powder1/4 tsp cayenne pepper (optional)1/2 tsp salt, then more to taste1 tsp freshly ground black pepper1/4 cup grated yellow onion2 Tbsp steak sauce½ teaspoon Sylvia's...
---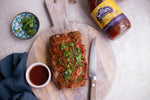 Sylvia's will change the way you feel about meatloaf! This moist and flavorful recipe will bring meatloaf to the top of your cravings.  Prep Time: 10 minutes Cooking Time: 70 minutes Servings: 8 Ingredients:2 pounds ground turkey1 1/2 cups Sylvia's Sweet Cookin', Dippin' & Moppin' Sauce, divided1 medium onion, finely chopped1/2 cup dry breadcrumbs3 cloves garlic, minced2 large eggs, lightly beaten2 teaspoons kosher salt1/2 teaspoon freshly ground black pepper Instructions: Make the meatloaf: Arrange a rack in the middle of the oven and heat to 400°F. Line a 9x5-inch loaf pan with aluminum foil. Place the turkey, 1 cup of the...