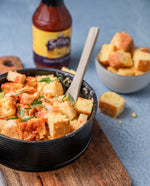 Looking for the perfect weeknight recipe? Sylvia's got you covered with the traditional BBQ Chicken and Apple Bread Pudding! It is the ultimate recipe for summer! Prep Time: 45 minutesCook Time: 35 minutesServings: 2  Ingredients: 1 package (8-1/2 ounces) Sylvia's Cornbread Mix 6 tablespoons butter, divided 1 large sweet onion, thinly sliced 2 cups diced cooked chicken 2 large eggs, beaten 1 cup half-and-half cream 1 teaspoon salt 1/2 teaspoon pepper 1-1/4 cups shredded Monterey Jack cheese 1 small green apple, peeled and diced Minced chives 2/3 cup barbecue sauce, divided Sylvia's Sweet Cookin', Dippin' & Moppin' Sauce Instructions: Prepare cornbread according to...
---
Don't be alarmed, this nacho recipe is easier than it seems, and much more delicious than you can even imagine! Crispy, cheesy, and cooks in 15 minutes. Prep Time: 40 minutesCooking Time: 15 minutesServings: 6-8 Ingredients:1 (15-ounce) can black beans1 (2.25-ounce) can sliced black olives12 ounces sharp cheddar or Monterey jack cheese, or a combination (3 cups shredded)1 small roma tomato8 medium scallions1 small jalapeño1 pound chicken breasts, cut into bite sized-strips1 bag of Sylvia's Crispy Fried Chicken Mix1 egg 1/4 cup water1/2 cup salsa1 (16-ounce) bag restaurant-style tortilla chipsSour cream, for serving Instructions: Arrange a rack in the middle of the oven and...
---
Everything we love all in one! Serve slightly warm with soups, breakfast, or just butter at any point in the day! Prep Time: 20 minutesCooking Time: 60 MinsServings: 10 Ingredients: 1 egg 1/2 cup milk 1 1/4 cup grated cheddar cheese divided 6 or 8 strips bacon cooked to almost crisp and crumbled 1/4 cup vegetable oil 1/2 teaspoon Sriracha hot sauce (use a dash or two of Tabasco Sauce instead, if desired) 1 bag of Sylvia's Golden Cornbread and Muffin mix Instructions Preheat your oven to 375 degrees Fahrenheit. Grease a 12-cup muffin tin well with butter and set aside....