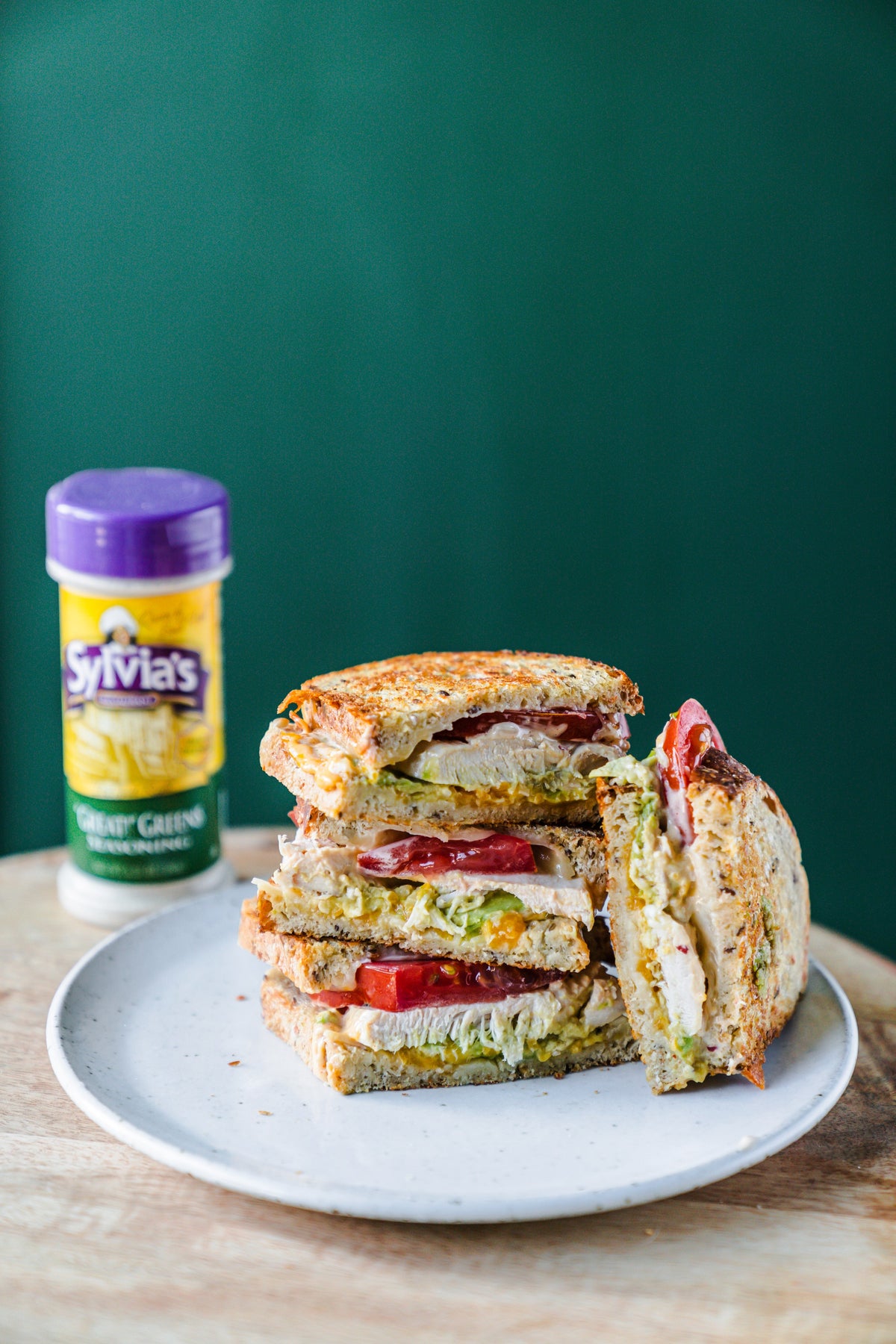 Chipotle Chicken Grilled Cheese is more than just meets the eye–with Sylvia's Kickin' Hot, Hot Sauce, there's a kick of heat in every bite thanks to aged cayenne peppers that makes this the perfect grilled cheese!  
Prep Time: 15 minutes
Cook Time: 20 minutes
Servings: 2 
Ingredients:
Chipotle sauce:

1/4 c. Greek yogurt
2 tbsp. mayonnaise
1/2 tsp. seeded and minced chipotle
1 1/2 tsp. white wine vinegar
1 1/2 tsp. honey
1/8 tsp. garlic powder
Pepper and Salt to taste

Grilled Cheese Sandwich:

2 c. grilled chicken strips
2 tbsp. butter, softened
4 thick slices sourdough bread
8 sliced Cheddar
8 sliced Monterey jack cheese
1 vine-ripened tomato, thinly sliced
1 avocado, sliced
Instructions:
Make chipotle sauce, in a small bowl, whisk together the yogurt, mayonnaise, minced chipotle, Sylvia's Kickin' Hot, Hot Sauce, vinegar, honey, and garlic powder. Season with salt and pepper.

Make grilled cheese, add grilled chicken breast strips in a single layer on a microwave-safe plate and heat covered with a paper towel on high until warm, about 1 1/2 minutes.

Spread butter on one side of each slice of bread. Flip each slice so it is butter side down and spread the top unbuttered side of each slice with 1 tablespoon of chipotle sauce. Top each piece of bread with Cheddar and Monterey jack cheeses, followed by tomato, chicken, and avocado. Close the sandwiches.

Heat a large nonstick skillet over medium-low. Add sandwiches and place a lid over grilled cheese to gently weigh down and cover the skillet. Cook until bread is golden and cheese is melted, flipping halfway through, about 4 minutes per side. Serve hot with remaining sauce.