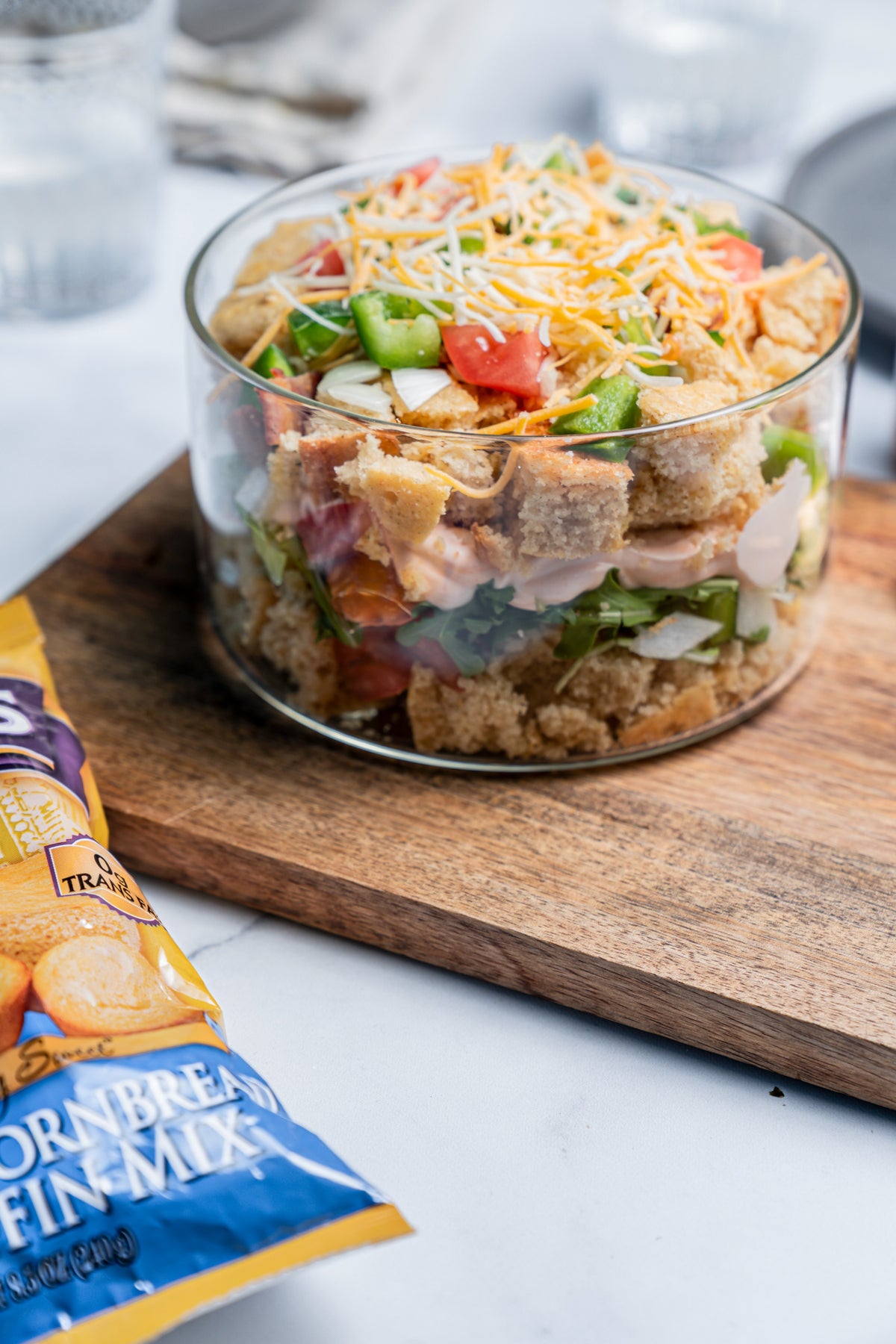 Doesn't cornbread just make everything better? We sure think so–especially when you use Sylvia's Golden Cornbread & Muffin Mix! Recreate the layers of this bright and colorful Cornbread Spring Salad with our easy-to-bake Golden Cornbread & Muffin Mix, and our flavor-packed Kickin' Hot, Hot Sauce to impress your potluck guests, or for the perfect garden party centerpiece. 
Prep Time: 15 minutes
Cook Time: 20 minutes
Servings: 2 
Ingredients:
1 package Sylvia's Golden Cornbread and Muffin Mix
1 cup mayonnaise
1/2 cup sour cream
1/2 cup ranch salad dressing mix
4 to 6 cups torn romaine
4 medium tomatoes, chopped
1 medium green pepper, chopped
1 medium onion, chopped
1 pound bacon strips, cooked and crumbled
4 cups shredded cheddar cheese
Instructions:
Preheat oven to 400°. Prepare Sylvia's Golden Cornbread and Muffin Mix batter according to package directions. Pour into a greased 8-in. square baking pan. Bake until a toothpick inserted in center comes out clean, 15-20 minutes. Cool completely in pan on a wire rack.

Coarsely crumble cornbread into a large bowl. In a small bowl, mix mayonnaise, sour cream, salad dressing mix and Sylvia's Kickin' Hot, Hot Sauce.

In a 3-qt. trifle bowl or glass bowl, layer a third of the cornbread and half of each of the following: romaine, tomatoes, pepper, onion, bacon, cheese and mayonnaise mixture. Repeat layers. Top with remaining cornbread and, if desired, additional chopped tomato and bacon. Refrigerate, covered, 2-4 hours before serving.