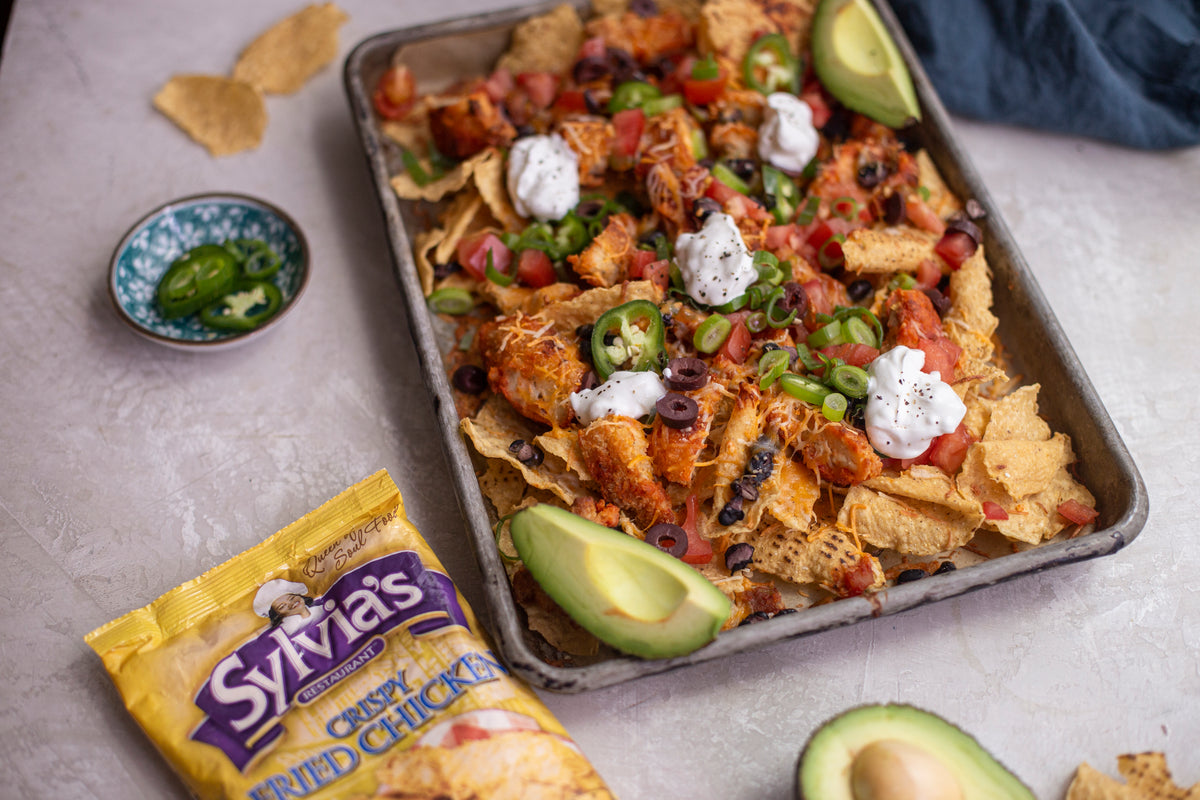 Don't be alarmed, this nacho recipe is easier than it seems, and much more delicious than you can even imagine! Crispy, cheesy, and cooks in 15 minutes.
Prep Time: 40 minutes
Cooking Time: 15 minutes
Servings: 6-8
Ingredients:
1 (15-ounce) can black beans
1 (2.25-ounce) can sliced black olives
12 ounces sharp cheddar or Monterey jack cheese, or a combination (3 cups shredded)
1 small roma tomato
8 medium scallions
1 small jalapeño
1 pound chicken breasts, cut into bite sized-strips
1 bag of Sylvia's Crispy Fried Chicken Mix
1 egg 
1/4 cup water
1/2 cup salsa
1 (16-ounce) bag restaurant-style tortilla chips
Sour cream, for serving

Instructions:
Arrange a rack in the middle of the oven and heat the oven to 425°F. Line a rimmed baking sheet with aluminum foil.

Prepare the following, keeping them separate: Drain and rinse 1 can black beans. Drain 1 can sliced black olives. Grate 12 ounces sharp cheddar or Monterey jack cheese on the large holes of a box grater (about 3 cups). Chop 1 roma tomato. Thinly slice 8 scallions and 1 small jalapeño.
Prepare the egg wash. Dip chicken strips into the egg wash before rolling into Sylvia's Crispy Fried Chicken Mix. Shake chicken until evenly coated. Fry at 375°F, until golden brown and cooked. Set aside on a paper towel. Before bulding the nachos, Add 1/2 cup salsa and toss to combine.
Build the nachos: arrange about half of a 16-ounce bag of tortilla chips on the baking sheet in an even layer. Top with half of the seasoned chicken and a handful of shredded cheese. Layer the remaining chips on top, followed by the remaining chicken and cheese. Sprinkle with the black beans.
Bake the nachos until the cheese is melted and the chips around the edges are beginning to brown, about 8 minutes. Just before serving, garnish with the black olives, jalapeño, tomato, dollops of sour cream, and scallions.