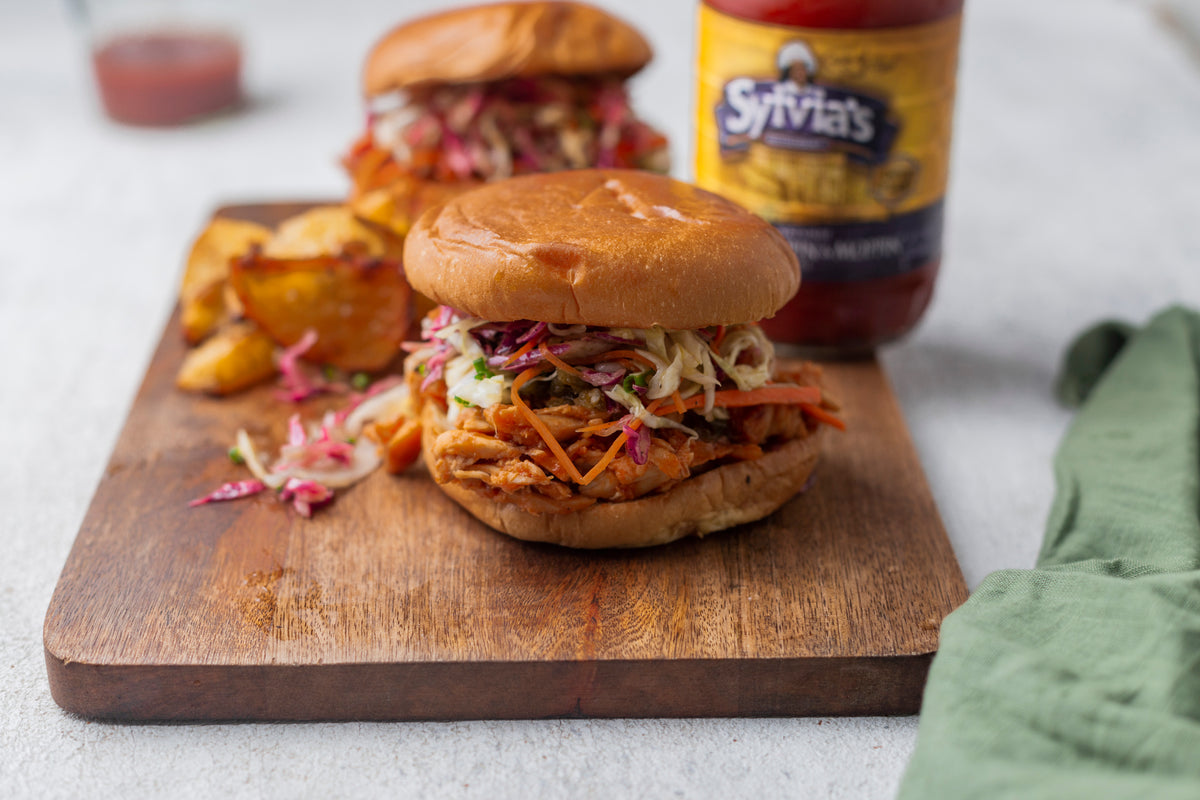 Create this simple restaurant favorite for your family! This flavorful recipe is the perfect meal to be shared by everyone. With mouth watering tastes from ingredients like smoked paprika, chili powder, cayenne pepper, and Sylvia's Cookin', Dippin' & Moppin' Sauce this dinner will be a new favorite. 
Prep Time 10 min
Cook Time 4 - 6 hours
Ingredients:
1 1/2 cups Sylvia's Cookin', Dippin', & Moppin' Sauce
3 lbs. boneless, skinless chicken thighs
1 1/2 tsp chili powder
1 1/2 tsp smoked paprika
1/2 tsp garlic powder
1/4 tsp cayenne pepper (optional)
1/2 tsp salt, then more to taste
1 tsp freshly ground black pepper
1/4 cup grated yellow onion
2 Tbsp steak sauce
½ teaspoon Sylvia's Secret Seasoning 
8 hamburger buns
Instructions:
1. Place chicken in 5 - 7 quart slow cooker
2. In a small mixing bowl whisk together chili powder, paprika, garlic powder, cayenne pepper, salt, and pepper.
3. Pour spice mixture over chicken and add grated onion. Toss well to evenly coat chicken with spices.
4. Evenly pour 3/4 cup Cookin', Dippin', & Moppin' Sauce over the chicken.         
5. Cover and cook on low heat 4 - 6 hours until chicken shreds easily and registers 165 degrees in center.                     
6. Transfer chicken to a cutting board, reserve liquid from the slow cooker. Skim fat from the liquid and discard the fat.           
7. Shred chicken with two forks.                 
8. Return chicken to slow cooker. Heat remaining 3/4 cup Cookin', Dippin' & Moppin' Sauce.   
9. Pour 3/4 cup of the reserved liquid and the BBQ sauce mixture over the chicken then toss to evenly coat. If you feel it needs a little more moisture, you can add another splash of the reserved liquid (or more BBQ sauce), also season to taste with a little more salt if needed.
10. Serve the pulled bbq chicken in hamburger buns.