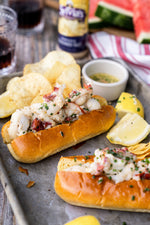 Let's give a shoutout to our favorite crustacean: Lobster! Recreate these absolutely irresistible Lobster Rolls with a delicious dash of Sylvia's Soulful Seasoned Salt that turns up the flavor and makes these rolls even more elegant! A Lobster's best friend is Sylvia's Soulful Seasoned Salt.  Prep Time: 13 minutesCook Time: 2 minutesServings: 4  Ingredients: 1 lb cooked lobster meat (buy fresh or frozen), or meat from 2 or 3 medium size lobsters 2-3 tbsp mayonnaise 1 celery rib finely diced, optional ½ tsp lemon zest ½ tbsp lemon juice 1 tbsp chives 1 dash Hot sauce ¼ tsp Sylvia's Soulful Seasoned Salt...
---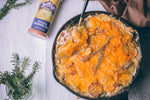 What's better than potatoes? Cheesy and soulful potatoes! Here's to another comforting dish the entire family can (and will) enjoy.  Prep Time: 20 minutesCooking Time: 60 MinsServings: 10 Ingredients: 2 lbs Russet Potatoes, peeled and sliced in 1/8 inch rounds2 lbs Yukon Gold Potatoes, peeled and sliced in 1/8 inch rounds1 medium sweet onion, thinly sliced1/4 cup butter4 cloves garlic, minced1/4 cup all-purpose flour1/4 teaspoon onion powder1/4 teaspoon smoked paprika1/2 tablespoon dried parsley1 teaspoon of sea salt1/2 teaspoon fresh ground black pepper1 cup low sodium chicken broth2 cups 2% milk2 cups freshly grated sharp cheddar (reserve 1/2 cup for top)1 cup freshly grated...
---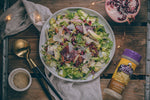 Looking for a side dish to serve during the holidays? This salad is the perfect salad that won't get lost in the sea of options! Prep Time: 15 minutesServings: 4 Ingredients:5 tbsp. extra-virgin olive oil5 tbsp. lemon juice1/4 c. freshly chopped parsleyKosher salt2 tbsp of Sylvia's Lemon Pepper Seasoning 2 lb. Brussels sprouts, halved and thinly sliced (about 8 cups)1/2 c. chopped toasted almonds1/2 c. pomegranate seedsShaved Parmesan, for serving Directions:1. In a medium bowl, whisk olive oil, lemon juice, parsley, 2 tablespoons of Sylvia's Lemon Pepper Seasoning until combined.2. Add Brussels sprouts and toss until completely coated.3. Let sit, tossing occasionally, for...