Enjoy your summer barbeques with this delicious BBQ Rib recipe. Made to share with family and friends, the flavorful tastes from Sylvia's Sweet Cookin', Dippin' & Moppin' Sauce will leave everyone wanting more!  Prep Time 20 minCook Time 3 hours Ingredients: 3 pounds baby back ribs1 tablespoon ground cumin1 tablespoon chili powder1 tablespoon paprikaSylvia's Sweet Cookin', Dippin' & Moppin' Sauce Instructions: 1) Preheat grill to 250 degrees F. Remove membrane from the back of the ribs by lifting the end with a dry butter knife, then gripping it with a paper towel and lifting (my ribs already had the membrane removed). Rinse ribs with...
---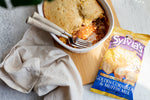 Try this hearty cornbread casserole as a home-cooked weeknight meal that everyone will love. This recipe is made quick and simply with the help of Sylvia's Golden Cornbread and Muffin Mix!  Prep Time 10 minCook Time 20 min Ingredients:1 lb ground beef¼ cup diced onion1 (6 oz) can tomato paste1 Cup watersalt and pepper to tasteSylvia's Golden Cornbread and Muffin Mix1 egg⅓ Cup milk1 can corn, drained1 ½ Cup cheddar cheese Instructions: Preheat oven to 400˚F.  Brown the ground beef and onion until fully cooked.  Drain the fat. Add tomato paste, water, salt and pepper to ground beef and onion.  Simmer for 2 to 3 minutes. In a...
---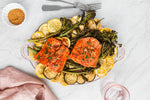 This easy weeknight dinner is calling your name. Low maintenance and absolutely delicious-- what more can we ask for? Prep Time: 15 minutesCook Time: 25 minutesServings: 2Ingredients: 2 salmon fillets1/3 cup Sylvia's Cookin', Dippin', Moppin' sauceSylvia's Pure Black Peppersaltparsley, chopped for garnish2 zucchinis, sliced8 oz broccolini1 tbsp olive oil1 tbsp balsamic vinegar1 tsp Sylvia's Rib Rub n' More seasoning Directions: Preheat oven to 400-degrees F. Line a large baking sheet with baking parchment. Toss broccolini and sliced zucchini with olive oil, balsamic vinegar and the seasoning. Spread in a single layer on lined baking sheet. Roast in oven for 10 minutes. Then...