Enjoy your summer barbeques with this delicious BBQ Rib recipe. Made to share with family and friends, the flavorful tastes from Sylvia's Sweet Cookin', Dippin' & Moppin' Sauce will leave everyone wanting more!  Prep Time 20 minCook Time 3 hours Ingredients: 3 pounds baby back ribs1 tablespoon ground cumin1 tablespoon chili powder1 tablespoon paprikaSylvia's Sweet Cookin', Dippin' & Moppin' Sauce Instructions: 1) Preheat grill to 250 degrees F. Remove membrane from the back of the ribs by lifting the end with a dry butter knife, then gripping it with a paper towel and lifting (my ribs already had the membrane removed). Rinse ribs with...
---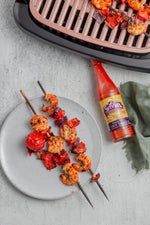 Take your summer barbeques to a new level with this Spicy Grilled Shrimp Skewer recipe. Marinating in delicious flavors from ingredients like freshly chopped garlic, cilantro, and Sylvia's Kickin' Hot Hot Sauce make this shrimp a must try for this summer! Enjoy this simple recipe with family and friends! Prep Time 10 minCook Time 10 min Ingredients: 2 lb shrimp wild-caught, peeled and deveined with tails attached1 cup olive oil5-7 cloves garlic minced2 tablespoon Sylvia's Kickin' Hot Hot Sauce 1 tablespoon ketchup1/4 cup cilantro freshly chopped1 large lemon squeezed2 teaspoons oregano dried1 teaspoon salt & pepper or to taste2 bell peppers cut into square pieces1 onion cut into square pieces Instructions: 1) First, in a mixing bowl combine 1 cup olive oil, 5 finely chopped garlic cloves, 2...
---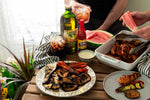 Warm weather is here and we're bringing out the grill. Combine DaVinci Olive Oil and Sylvia's Kickin' Hot Hot Sauce for a delectable marinade for your favorite proteins and vegetables. Prep Time: 35 minutesCooking Time: 25 minutesServings: 5 Ingredients:Vegetables:1 eggplant (cut into thick rounds)2 zucchinis (cut into thick slices)2 red bell peppers (quartered)SaltLemon Herb Marinade:1/4 cup olive oil1 tbsp lemon zestBunch of your favorite mixed herbs (chopped)Salt and pepper to tasteChicken Marinade:4 tablespoons Sylvia's Kickin' Hot Hot Sauce2 tablespoons low sodium soy sauce1 tablespoon sesame seeds1 tablespoon brown sugar1 teaspoon paprika½ teaspoon garlic salt¼ teaspoon garlic pepper2 teaspoons minced garlic¼...