Chicken and Waffles just got a whole 'lot more exciting. Sylvia's Crispy Fried Chicken Mix makes THE perfect crispy fried chicken exterior with a tender, juicy interior. Drizzle the top with Sylvia's Kickin' Hot, Hot Sauce and maple syrup for a sweet, savory, deliciously spicy recipe that everyone will want to dig into!   Prep Time: 15 minutesCook Time: 15 minutesServings: 2  Ingredients: Sylvia's Crispy Fried Chicken Mix 2 cups all-purpose flour 2 tbsp granulated sugar 2 tsp baking powder 1 tsp baking soda ½ tsp salt 1 tsp ground cinnamon 2 cups buttermilk ½ cup unsalted butter, melted 2 large eggs ½ cup...
---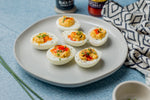 It's not a party without some deviled eggs. They are a simple and spectacular addition to your table! Jazz up your Deviled Eggs with Sylvia's Kickin' Hot Sauce! Prep Time 10 minutesCook Time 10 minutesServings: 2  Ingredients: 6 large hard-boiled eggs 2 tablespoons mayonnaise 3 tablespoons plain Greek yogurt 1/2 teaspoon distilled white vinegar 1 teaspoon Sylvia's Kickin' Hot, Hot Sauce 1/2 teaspoon sugar 1/8 teaspoon salt 1/8 teaspoon Sylvia's Pure Coarse Black Pepper 1/8 teaspoon garlic powder 1 pinch cayenne pepper 1/4 cup frozen chopped spinach, thawed and drained 3 teaspoons finely chopped chives (2 teaspoons reserved for garnish) Instructions: Fill a large bowl...
---
All the flavors you love from buffalo wings, served in lettuce wraps for an extra layer of crisp texture. Perfect for low-carb nights! Prep Time: 5 minutesCooking Time: 15 MinsServings: 4 Ingredients: 1-1/2 pounds lean ground chicken1 celery rib, diced1/4 teaspoon pepper1/3 cup ketchup1/4 cup Sylvia's Kickin' Hot Hot Sauce3 tablespoons brown sugar1 tablespoon cider vinegar2 teaspoons yellow mustard12 Bibb or Boston lettuce leavesCrumbled blue cheese, optional Instructions: 1. In a large skillet, cook and crumble chicken over medium-high heat 3 minutes. Stir in celery and pepper; cook and stir until chicken is no longer pink and celery is crisp-tender, 2-3 minutes.2. Stir...