Recipes — Sylvia's Kickin' Hot Hot Sauce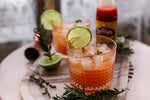 The perfect cocktail to keep you warm throughout the cold months. Sylvia's Kickin' Hot, Hot Sauce brings the ideal spiciness to this drink. Prep Time: 5 minutesServings: 1 Ingredients: 1 tablespoon honey1 teaspoon water2 ounces blanco tequila or white rum1 ounce fresh lime juice6 dashes Sylvia's Kickin' Hot, Hot Sauce IcePinch of cayenne pepperLime wedge Instructions: 1. In a small saucepan over low heat, combine the honey and water, and cook until the honey dissolves, stirring frequently. Remove from the heat. 2. Add the honey syrup, tequila, lime juice, Sylvia's Kickin' Hot, Hot Sauce and cayenne to a cocktail shaker with ice. Shake and pour over fresh ice...
---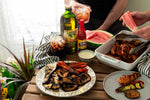 Warm weather is here and we're bringing out the grill. Combine DaVinci Olive Oil and Sylvia's Kickin' Hot Hot Sauce for a delectable marinade for your favorite proteins and vegetables. Prep Time: 35 minutesCooking Time: 25 minutesServings: 5 Ingredients:Vegetables:1 eggplant (cut into thick rounds)2 zucchinis (cut into thick slices)2 red bell peppers (quartered)SaltLemon Herb Marinade:1/4 cup olive oil1 tbsp lemon zestBunch of your favorite mixed herbs (chopped)Salt and pepper to tasteChicken Marinade:4 tablespoons Sylvia's Kickin' Hot Hot Sauce2 tablespoons low sodium soy sauce1 tablespoon sesame seeds1 tablespoon brown sugar1 teaspoon paprika½ teaspoon garlic salt¼ teaspoon garlic pepper2 teaspoons minced garlic¼...