Recipes — Creamy Buffalo Chicken Dip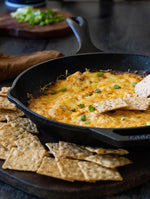 Real one's know: Buffalo Chicken Dip is a cross-country favorite! Who brings the heat to this gooey, warm dip better than Sylvia's!? Our Kickin' Hot Sauce is packed with aged cayenne pepper to bring the spice and a whole lot of soul to every bite. Savory, spice, and everything nice with Sylvia's! Prep Time: 10 minutesCook Time: 15 minutesServings: 6 Ingredients: 1 tablespoon unsalted butter 2 teaspoons minced garlic 2 cups cooked chicken shredded 1/2 cup Sylvia's Kickin' Hot, Hot Sauce  8 oz (250g) g block cream cheese, softened 1/2 cup sour cream 1/2 cup white Cheddar cheese freshly shredded 1/4 cup American cheddar freshly shredded 1/4 cup crumbled blue cheese (optional to serve) 2 teaspoons green onions, sliced ( or chives) Celery sticks carrot sticks, tortilla chips, crusty bread pieces,...
---
Quick, easy, and delicious! A recipe of perfect comfort food for any special occasion. Try this Creamy Buffalo Chicken Dip that's cheesy, creamy, and spicy.  Prep Time 7 minutesCook Time 22 minutesServings: 5 cups  Ingredients: 1 package (8 ounces) cream cheese, softened 1 cup ranch salad dressing 3 cans (4-1/2 ounces each) chunk white chicken, drained and shredded 1 cup shredded cheddar cheese Thinly sliced green onions, optional Corn or tortilla chips Celery sticks 1 cup Sylvia's Kickin' Hot Sauce   Instructions: In a small bowl, combine the cream cheese, hot sauce and salad dressing. Stir in chicken. Spread into an ungreased 11x7-in....