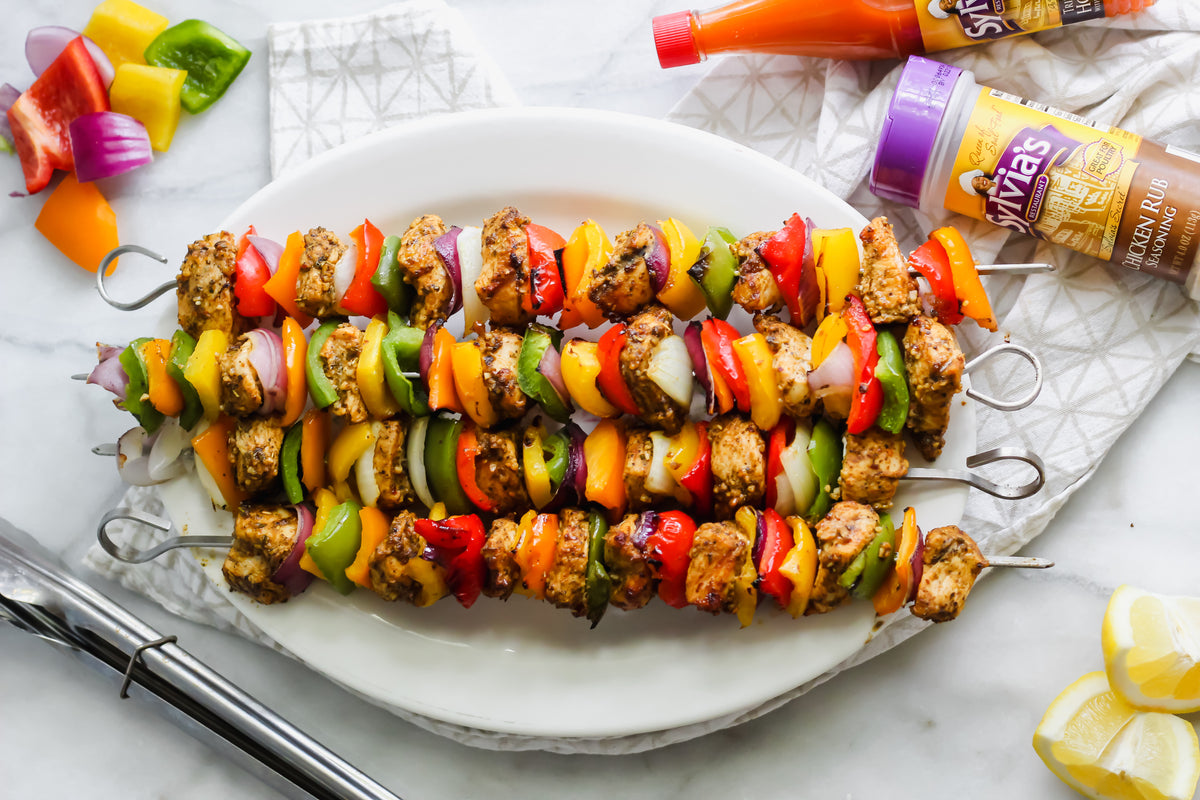 A balanced meal with the perfect meat to veggie ratio. Simple and delicious with a kick of heat. 
Prep Time: 40 minutes (includes 30 minute marinating time)
Cook Time: 10 minutes 
Assembly: 15 minutes
Servings: 4

Ingredients:
2 lbs chicken breast (or 2 large breasts) 
1 large green bell pepper
1 large yellow bell pepper
1 large orange bell pepper
1 large red bell pepper
1 large red onion
½ yellow onion 
3 tbsp Sylvia's Soul Food Chicken Rub Seasoning 
3 tbsp Sylvia's Soul Food XXX Hot sauce (divided) 
Juice of ½ lemon 
3 tbsp extra virgin olive oil 
2 tbsp salted butter 
1 tsp garlic powder
Skewers for assembling
Directions:
Slice your chicken breast into large chunks that are all equal size - this will ensure that they all cook evenly. To a large bowl, add the diced chicken. To the bowl, add 3 tbsp of olive oil, 3 tbsp of chicken rub seasoning, 2 tbsp of hot sauce (more if desired) and the juice of ½ of a large lemon. Mix to combine. Let this sit in the refrigerator for at least 30 minutes to marinate. 

While it's marinating, dice your veggies into similar size pieces as the chicken! You want them bite-size and roughly around the same size. Set these aside. 

Once the chicken is done marinating, assemble the kabobs! Begin placing the ingredients onto the skewer, alternating between veggie and chicken pieces until they are full. 

Heat up your grill until it's hot and ready to go. Place the kabobs directly on the grill. Grill on each side for 5 minutes or until the meat is fully cooked through. Remove from grill. 

In a small bowl, melt 2 tbsp of butter. Once melted, add 1 tsp of garlic powder and 1 tbsp of hot sauce (more if desired). Mix to combine and baste the kabobs with this. This will give them that extra spicy kick! Eat immediately and enjoy!