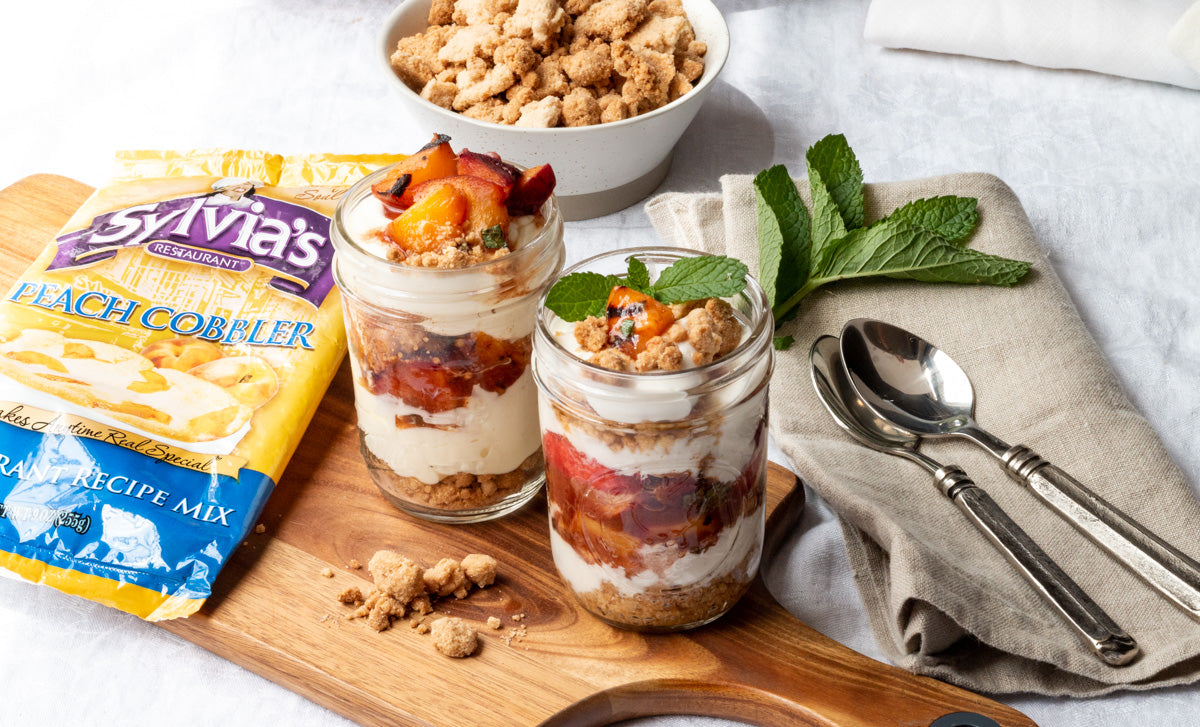 Grilling season is here and we like to take full advantage of it! Grill your favorite fruits to make the ultimate parfait with Sylvia's Peach Cobber Mix for extra texture and deliciousness. 
Prep Time: 30 minutes
Cook Time: 5 minutes on the grill
Assembly: 15 minutes
Serving 6 depending on glass sizes

Ingredients:
No-Bake Cheesecake Filling:
2 - 8 oz. packages cream cheese, softened to room temperature
8 oz. greek yogurt or sour cream
2 tablespoons granulated sugar
1 tablespoon vanilla extract
Juice of 1/2 a lemon
Cobber Crumble:
1 bag Sylvia's Peach Cobbler Mix
5-6 tablespoons of melted butter
Peaches or Fruit of Choice:
4 large peaches or fruit of choice, about 3 cups chopped into bite-sized pieces
2 tablespoons of sugar
1 teaspoon cinnamon
Juice of 1/2 a lemon
Fresh mint leaves (optional)
Instructions:
1. Heat oven to 350 degrees Fahrenheit
2. Mix Sylvia's Peach Cobbler Mix with melted butter, using enough butter to create granola sized clumps. Add butter in stages to obtain the correct consistency. Bake on a cookie sheet sprayed with non-stick spray for 15-18 minutes or until golden brown, turning and stirring once during baking for even browning. Set aside and let cool.
3. With a hand or kitchen stand mixer, beat softened cream cheese with sugar, vanilla and lemon juice for 2-3 minutes until smooth and it starts to build volume. Add yogurt or sour beat and beat to combine. To prevent lumps, add 1/2 the yogurt at a time. Cover and refrigerate (this can be done a day in advance) 
4. Preheat grill to medium-high.
5. Cut peaches in half and remove the pit, grilling cut-side-down until the fruit starts to release its juices, being careful not to burn. Chop grilled peaches into bite-sized chunks and place into a medium bowl. Toss with the sugar, cinnamon and lemon juice. Cover and set aside to macerate for 15 minutes, turning once to evenly distribute the accumulating fruit juices.
6. (Optional) Finely chop mint leaves and add to the fruit mixture just before assembly, saving a few leaves for garnish. 
To Assemble:
Lay cobbler crumbs, no-bake cheesecake, and fruit in serving glasses, with the top layer ending with fruit and some crumbles. Garnish with mint. 
Tips:
- Use the fruit of your choice and if a grill is not available, simply skip that step. Although be sure to macerate the fruit in the sugar for 15 minutes to ensure the fruit has time to create its own syrupy sauce.
- The cobbler mix works great for topping ice cream, breakfast yogurt cups, home-baked muffin topping, or streusel for banana or zucchini bread.