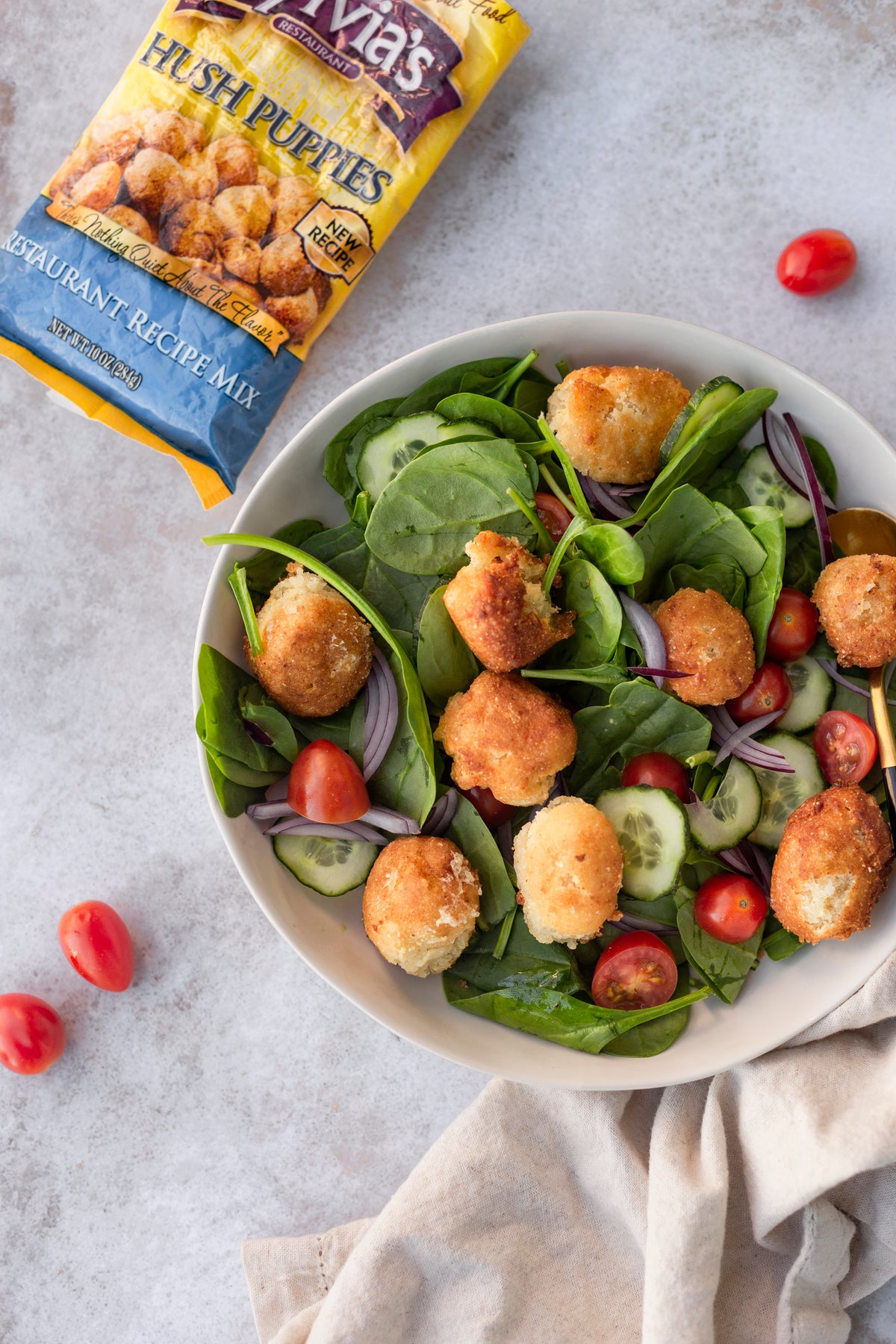 A delicious, nutritious, Hush Puppy Panzanella Salad ! This is so good, you will want to have it for every meal, especially when using Sylvia's Hush Puppies Mix!
Prep Time: 15 min
Servings: 4-6
Ingredients:
1 clove garlic, minced
3 tbsp red wine vinegar
1/2 C plus 1 tbsp extra-virgin olive oil
Sea salt
3 oz baby spinach
1 1/2 lbs heirloom tomatoes (a variety of colors and sizes works great)
1/3 cup thinly sliced red onion
2 Persian cucumbers, sliced on the bias
1/2 C fresh basil leaves, torn
1 1/2 dozen Sylvia's Hush Puppies Mix
Instructions:
Combine the garlic, vinegar, oil, salt, and pepper in a jar. Place the lid tightly on the jar and shake vigorously to emulsify. Taste and add additional salt and pepper if desired. Set aside.
Spread the spinach out onto a large platter, set aside. Cut the tomatoes into bite sized wedges or pieces and place in a large mixing bowl with the red onion, cucumbers, and basil. Toss to combine. Drizzle 2 tbsp of the vinaigrette over the veggies and toss again.
arrange the dressed vegetables over the bed or spinach. Nestle Sylvia's Hush Puppies Mix amongst the veggies and drizzle the entire salad with another 2 tbsp of the vinaigrette. Serve immediately with any remaining vinaigrette on the side.