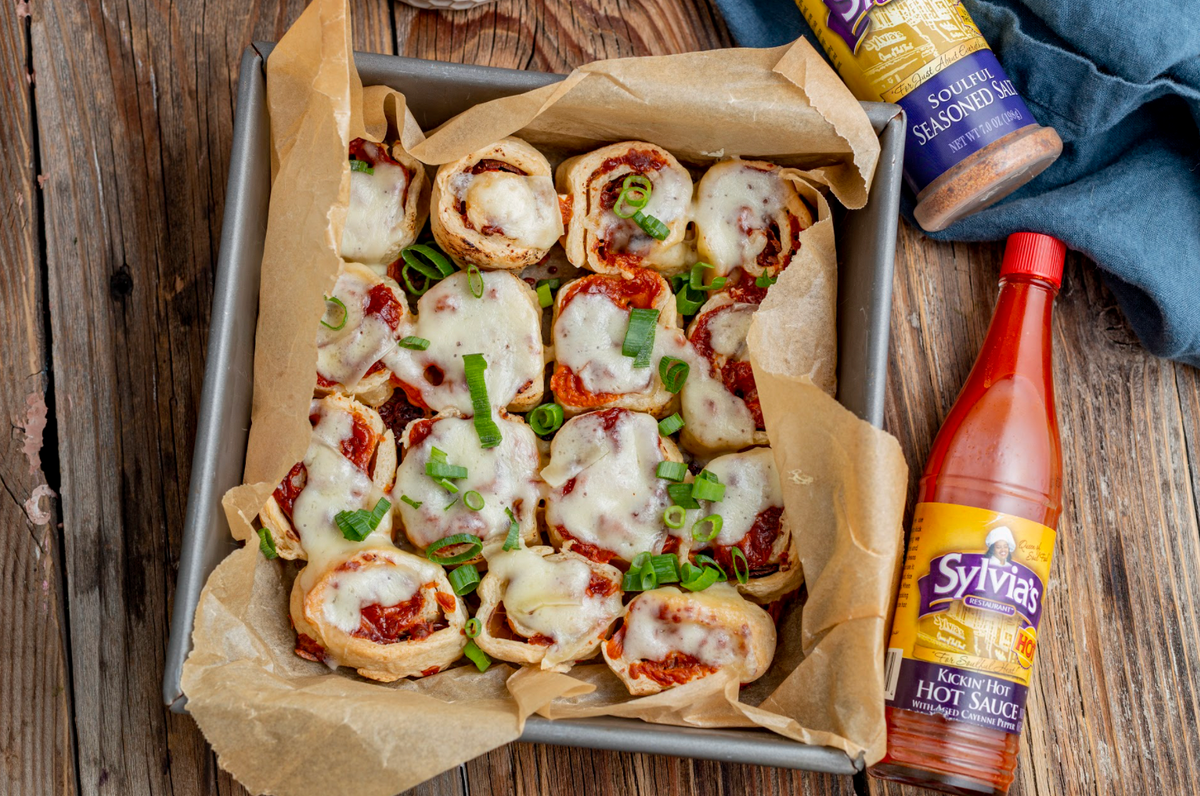 You don't have to wait until St. Patrick's Day to enjoy this easy and delicious Reuben appetizer. Enjoy year round with the help of deli meat and cheese. 
Prep Time: 30 minutes
Cooking Time: 35 minutes
Servings: 12
Ingredients:
2 teaspoons sugar
1 teaspoon active dry yeast
1 cup warm whole milk (110° to 115°)
1 tablespoon olive oil
2 teaspoons kosher salt
2 teaspoons caraway seeds
2-1/2 cups all-purpose flour
THOUSAND ISLAND SAUCE:
1/2 cup mayonnaise
3 tablespoons finely diced dill pickles
2 tablespoons ketchup
1 teaspoon brown sugar
1/2 teaspoon onion powder
1/4 teaspoon pepper
1/2 teaspoon Sylvia's Soulful Seasoned Salt
2 dashes Sylvia's Kickin' Hot Hot Sauce
Dash garlic powder
PIZZA SWIRLS:
3/4 pound thinly sliced corned beef
1/2 pound thinly sliced lacy Swiss cheese

Instructions:
Add sugar and yeast to warm milk; let stand 15 minutes. Beat yeast mixture, oil, kosher salt and caraway seeds until blended. Beat in flour, 1/2 cup at a time, just until combined. With oiled hands, place dough in a greased bowl, turning once to grease the top. Cover and let rise in a warm place until doubled, about 2 hours.
Meanwhile, mix all ingredients for Thousand Island sauce; refrigerate.
Punch down dough. To assemble pizza swirls, turn dough onto a well-floured surface; roll into a 15x10-in. rectangle. Arrange corned beef and cheese slices to within 3/4 in. of edges. Roll up jelly-roll style, starting with a long side; pinch seam to seal and tuck ends under. Cut crosswise into 1-in. slices. Place slices, sides touching, on a parchment-lined baking sheet.
Preheat oven to 375°. Cover pizza swirls with greased foil; let stand 20 minutes. Bake, covered, 20 minutes; remove foil and bake until golden brown, 15-20 minutes longer. Serve warm with Thousand Island sauce.