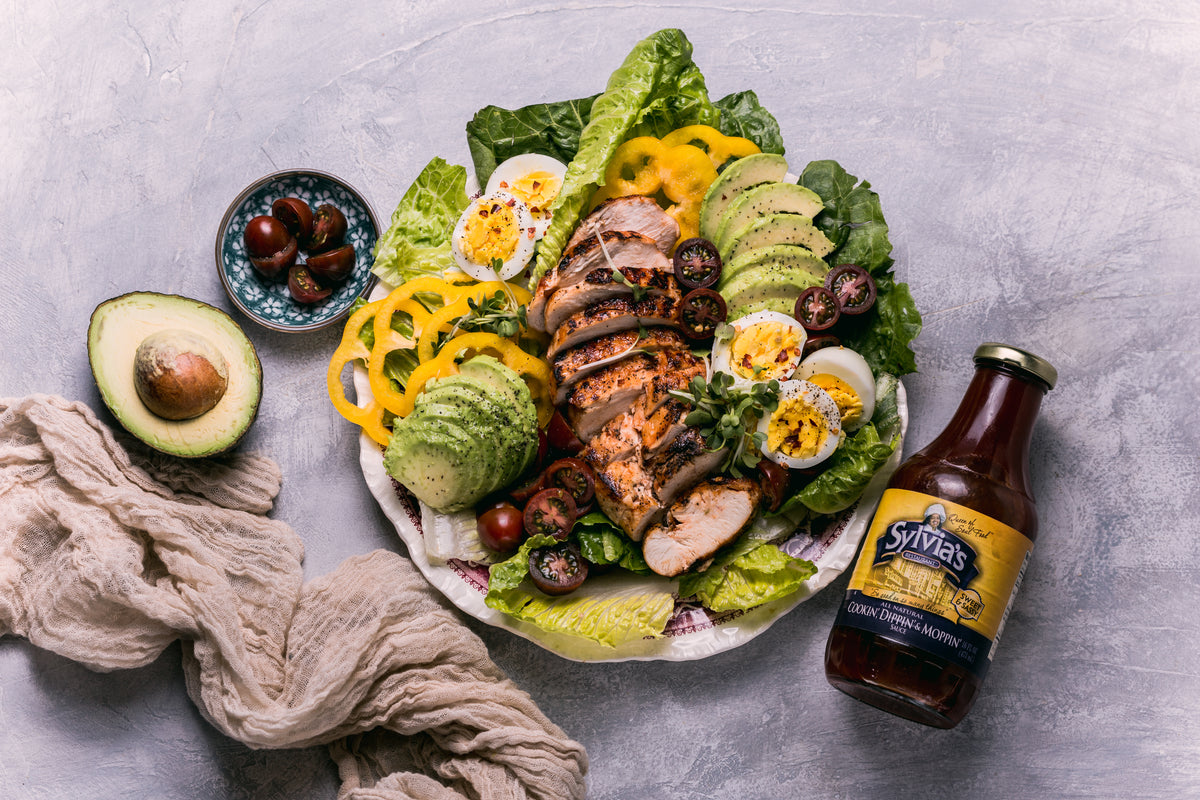 Enjoy grilling season with this loaded BBQ Chicken Cobb Salad. Add any of your other favorite ingredients and enjoy with guests!
Prep Time: 15 minutes
Cook Time: 30 minutes
Servings: 4



Ingredients: 
1 bunch romaine lettuce, rinsed
1 cup Sylvia's Sweet Cookin', Dippin' & Moppin' Sauce
1 cup cherry or grape tomatoes
1 yellow bell pepper, sliced into rings
1-2 boneless skinless chicken breasts
3 hard boiled eggs, halved
1/2 a ripe avocado, sliced
1 tbsp olive oil
Juice of 1 lime
2 tbsp honey
1 tsp salt
1 tsp pepper
salt and pepper to taste 

Instructions: 

BBQ Chicken:
1. In large bowl, whisk together barbecue sauce, lime juice, honey and season with salt and pepper. Set aside 1/2 cup for basting and bit extra for the dressing.
2. Add chicken to bowl and toss until coated.
3. Heat grill to high. Oil grates and grill chicken, basting with reserved marinade, until charred, 8 minutes per side for breasts. If baking-- heat oven to 350 degrees Fahrenheit and bake for 20 minutes. Continue to brush BBQ sauce every 5-7 minutes until chicken is cooked through.
4. Remove the chicken from the grill/oven and let the chicken rest for 10 minutes and then slice into 1/2 inch slices.
Salad:
1. Lay down the romaine lettuce leaves on a plate.
2. Add the chicken, eggs, tomatoes, avocado and bell peppers.
3. Drizzle the remaining bbq sauce over the salad and salt and pepper to taste