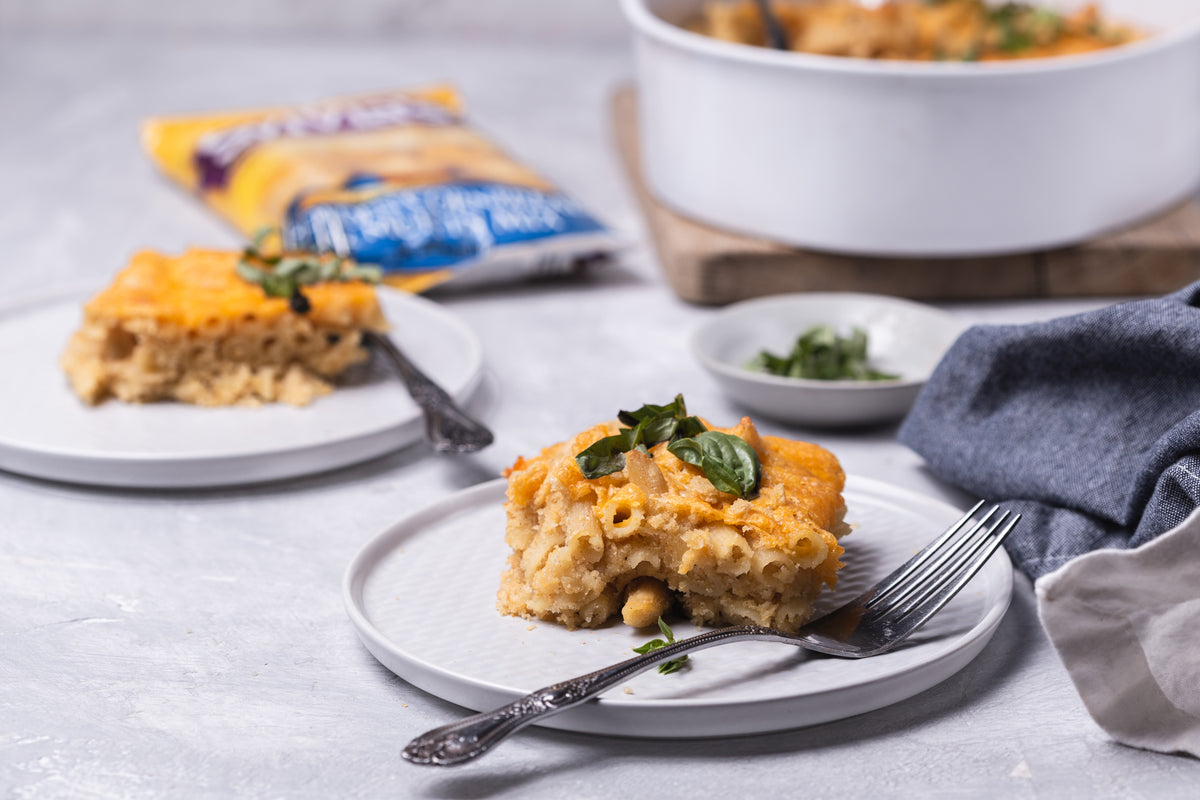 An even more soulful twist on a soulful classic dish! The cornbread adds a layer of complexity while balancing the Mac & Cheese with a little sweetness.
Prep Time: 30 Mins (including cornbread prep time)
Cook Time: 55 Mins (refrigerate)
Servings: 8
Ingredients: 
1 8.5 oz bag of Sylvia's Cornbread Mix
1/2 pound Penne Rigate
3 Tbsp. butter
3 Tbsp. flour
1 Tbsp. powdered mustard
3 cups milk
1 bay leaf
1/2 teaspoon paprika
1/2 teaspoon garlic powder
1/2 teaspoon onion powder
1 egg
12 ounces shredded cheese
1 teaspoon kosher salt
Instructions: 
1. Preheat oven to 350 degrees F.
2. Follow the instructions on the cornbread mix bag, and reserve 2 medium sized muffins for this recipe.
3. Boil pasta until al dente. While pasta is cooking, assemble the sauce in a deep sauce pan.
4. Add butter and let melt, add flour and mustard to pan and cook, whisking continuously for 5 minutes over medium low heat.
5. Add milk and dried spices. Bring to simmer and let cook for 10 minutes, stirring continuously. Add 3/4 of the cheese and let melt.
6. Add pasta to pan and mix thoroughly. Place mixture into greased oven safe dish.
7. Top with remaining cheese. Crumble the cornbread into small pieces resembling bread crumbs, toss this with a couple tablespoons melted butter. Place this on top of cheese.
8. Bake this for 30 minutes uncovered or until bubbly. If you are making this after the casserole sat in the fridge it will need an additional 10 minutes.