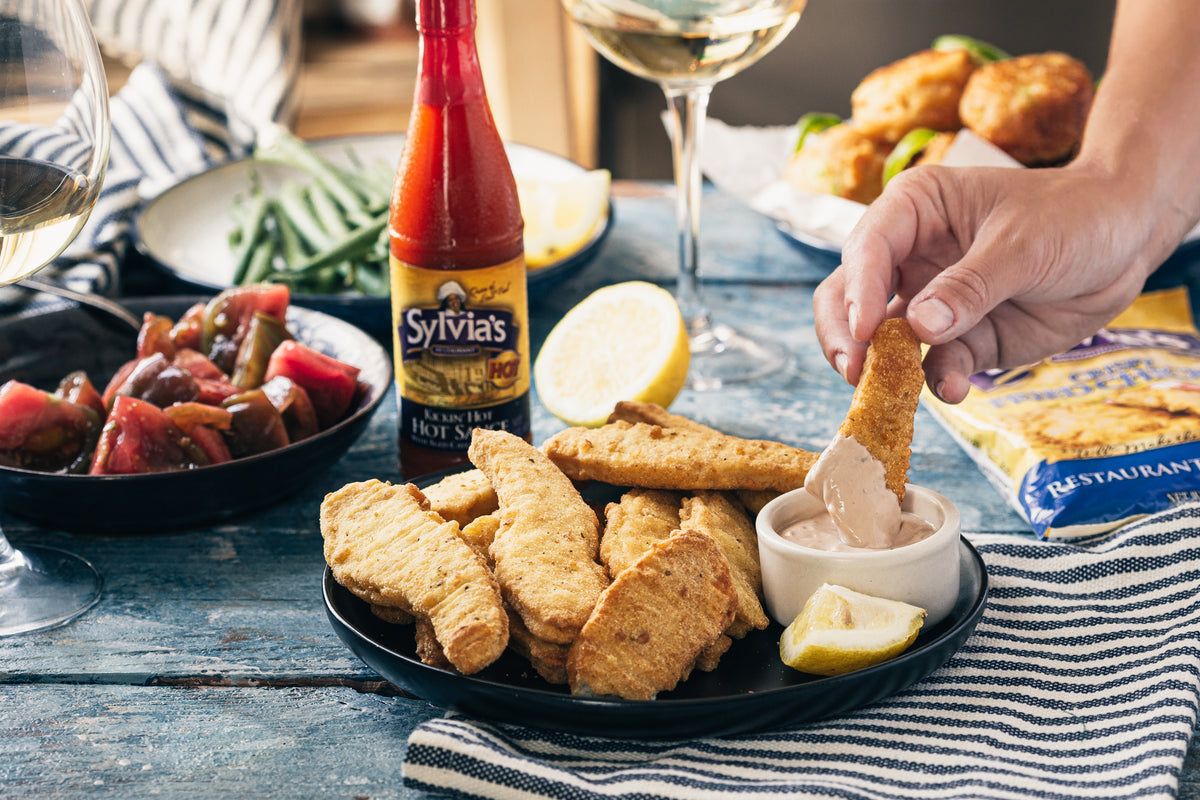 Sylvia's twist on a classic favorite. This Comeback Sauce will take this dish to new levels you won't want to come down from.
Prep Time: 25 minutes
Cook Time: 20 minutes
Servings: 4
Southern Comeback Sauce
Ingredients:
1 cup mayonnaise

(could be low fat)

2 1/2 tablespoons ketchup

1 1/2 tablespoons honey

1 tablespoon Sylvia's Kickin' Hot H

ot Sauce

2 teaspoons cajun seasoning

1 1/2 teaspoons Worcestershire sauce
Directions:
Mix all ingredients together until smooth.

Cover tightly and refrigerate until ready to serve.
Sylvia's Chicken Tenders
Ingredients:
1 pound of boneless chicken breast

1 bag of Sylvia's Fried Chicken Mix

2 teaspoons ground paprika

2 teaspoons of salt

1/2 teaspoon ground black pepper

2 large eggs

Oil spray

Directions:
Preheat the oven to 400°F.

Lightly spray a baking sheet with oil.

Dry the chicken and cut into pieces or strips.

Prepare three shallow dishes, such as soup dishes, on the kitchen counter.

Add Sylvia's Fried Chicken Mix, paprika, salt and pepper to the first course and mix until you get a mixture.

Add the egg to the second course and beat well.

Line the chicken pieces first with the flour and shake any excess.

Then dip the chicken pieces in the beaten egg and finally cover again with Sylvia's Fried Chicken Mix.

Share the chicken pieces coated in equal parts on the baking sheet and sprinkle with oil the upper parts of the breaded chicken pieces.

Cook for 20 minutes, turning the chicken tenders once almost done.