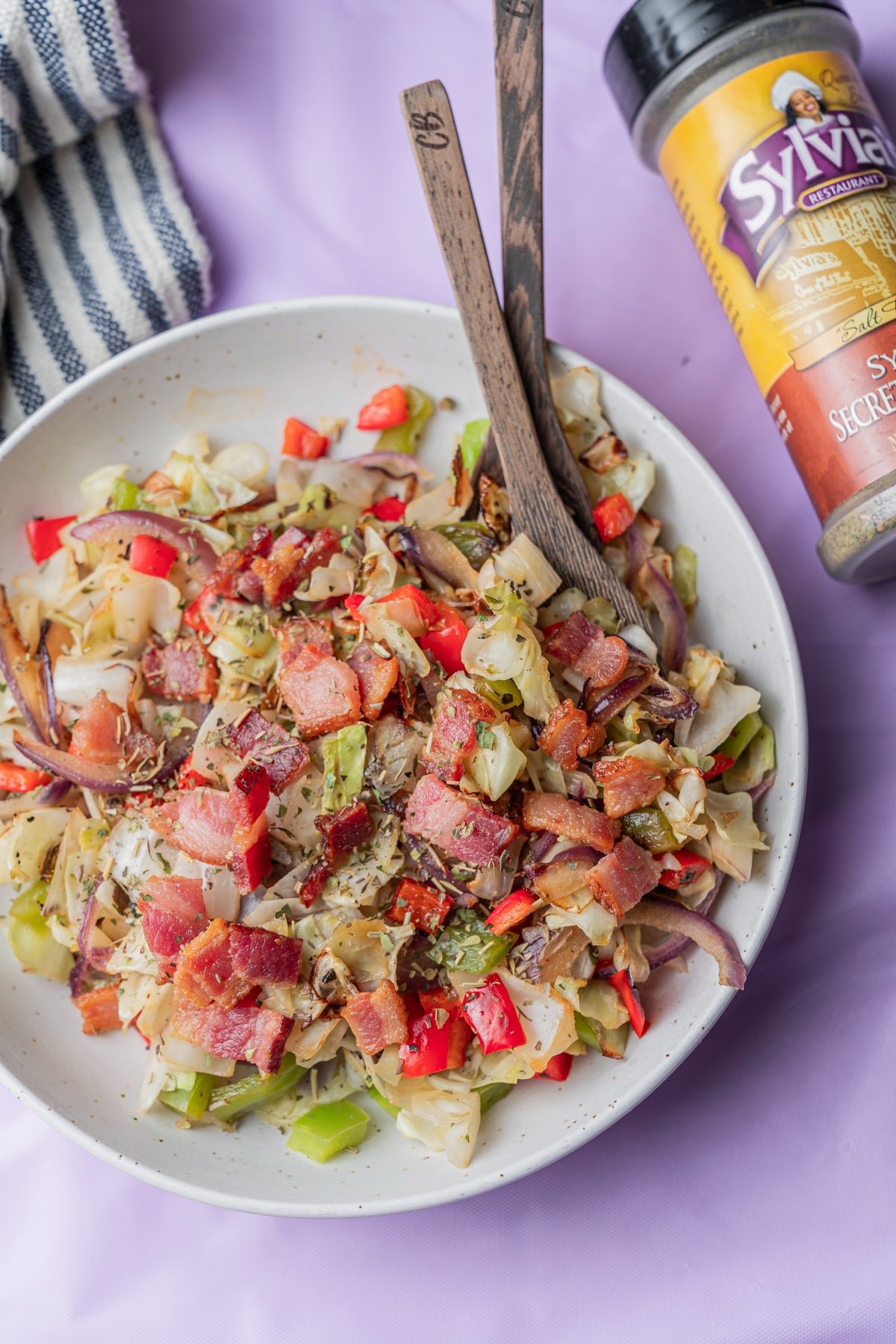 Bacon, Cabbage, and Sylvia's Secret Seasoning: the key to making this winter full of warmth and soul! Our unique blend of spices and herbs transforms this Southern Fried Cabbage with Bacon into a flavor explosion in each and every bite! 
Prep Time: 10 minutes
Cook Time: 25 minutes
Servings: 8
Ingredients:
1

 

head

 

fresh cabbage

4

 

slices

 

bacon (chopped into pieces)

1/2

 

cup

 

sliced onion

1/3

 

cup

 

chopped red peppers

1/3

 

cup

 

chopped green peppers

2

 

garlic cloves, minced

1/2

 

teaspoon

 

smoked paprika

1

 

teaspoon

 

Sylvia's Secret Seasoning

salt and pepper to taste
Instructions:
Slice the cabbage in half to create 2 portions. Slice the core/stem out of both. Then slice each piece in half. You should have 4 smaller chunks of cabbage. From there, slice each into smaller strips. Set the cabbage aside.
Heat a skillet on medium-high heat and add the chopped bacon. Cook for 3-4 minutes or until the bacon is crisp.
Use a slotted spoon and remove the bacon from the bacon. Reserve the bacon drippings.
Add the onions, green peppers, and red peppers to the skillet. Saute for 2-3 minutes until the onions are translucent and fragrant. Add in the minced garlic and stir.
Sprinkle Sylvia's Secret Seasoning, smoked paprika, salt and pepper to taste throughout.
Top with the chopped cabbage. Add the cabbage in batches. It will wilt down a ton. Stir to ensure everything is combined. If you are using a small pan you will need to go slow until the cabbage wilts.
Cover the skillet and lower the heat to low. Simmer for 15 minutes until the cabbage has wilted and softened.
Serve with the cooked bacon.