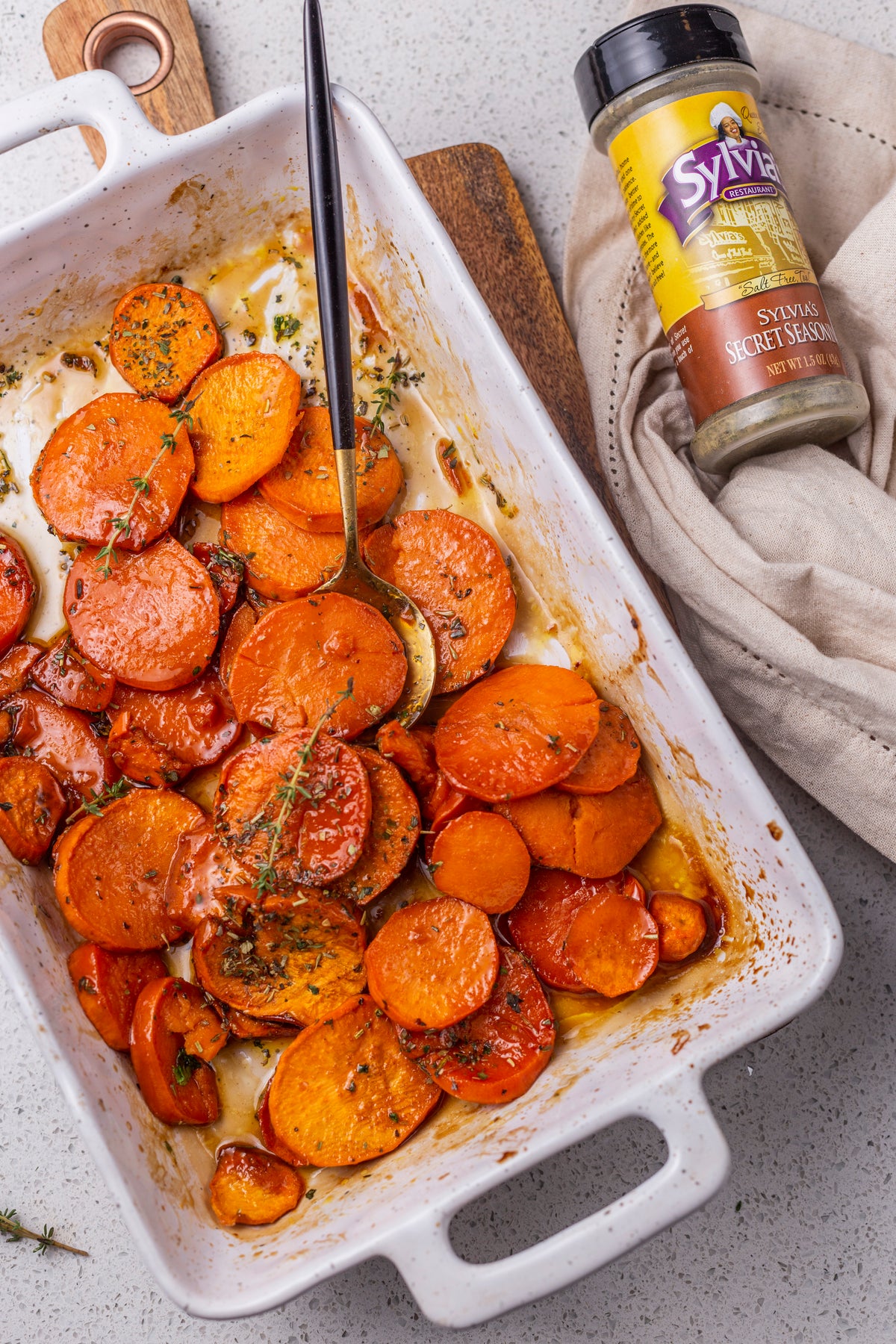 Sweeten up your Thanksgiving this year with this delicious recipe. Create the perfect meal to be shared by everyone. With mouth watering tastes from ingredients like pure maple syrup, brown sugar, ground nutmeg, and Sylvia's Secret Seasoning this dinner will be a new holiday favorite. 
Prep Time 10 min
Cook Time 40 min
Ingredients:
2 large sweet potatoes
1/4 tsp salt
1/4 cup butter, equals 4 tbsp (1/2 stick)
1 1/2 tbsp water
1/8 cup pure maple syrup 
1/2 cup brown sugar (packed)
1 1/2 tsp orange zest
1/2 tsp ground cinnamon
1/4 tsp ground nutmeg
1/2 tsp vanilla extract
1 tsp Sylvia's Secret Seasoning, 3/4 for sauce, reserve 1/4 to sprinkle as a garnish
8 hamburger buns
Instructions:
Preheat oven to 375°F. Spray a 2 quart baking dish with non-stick spray (sides and bottom).
Peel sweet potatoes , then cut into 1/2" thick round slices. Place slices in prepared dish. Sprinkle with salt, set aside. 
MAKE SAUCE: Melt butter on low heat in a medium pan. Add water, maple syrup, brown sugar, orange zest, cinnamon, nutmeg and Sylvia's Secret Seasoning; stir to combine. Turn heat to medium. Bring sauce to a low boil while stirring (2 minutes). Remove pan from heat; stir in vanilla extract. Pour sauce over sweet potatoes. Toss gently to coat.
Bake, uncovered, in 375°F. oven for 20 minutes. Remove potatoes from oven, and gently stir. Cover the dish with foil, and place dish back into oven. Bake for an additional 20 minutes; remove and stir again. If knife cannot be easily inserted and removed (like butter!), pop 'em back in the oven for another 5-10 minutes, then check again. They should be slightly caramelized on the outside, but creamy and soft on the inside! NOTE: If you are doubling the recipe (5-6 potatoes) and using a 9x13" baking dish, it may take up to an hour to bake all the sweet potatoes evenly. Just be sure to check on the tenderness after the 40 minute mark.
When done, remove pan from oven. Uncover pan; let cool for about 10 minutes before serving. To serve: Spoon a bit of sauce on top. Lightly sprinkle sweet potatoes with flaky sea salt (optional, but a good contrast to sweet sauce). Garnish with sprigs of fresh thyme or rosemary, if desired. Enjoy!