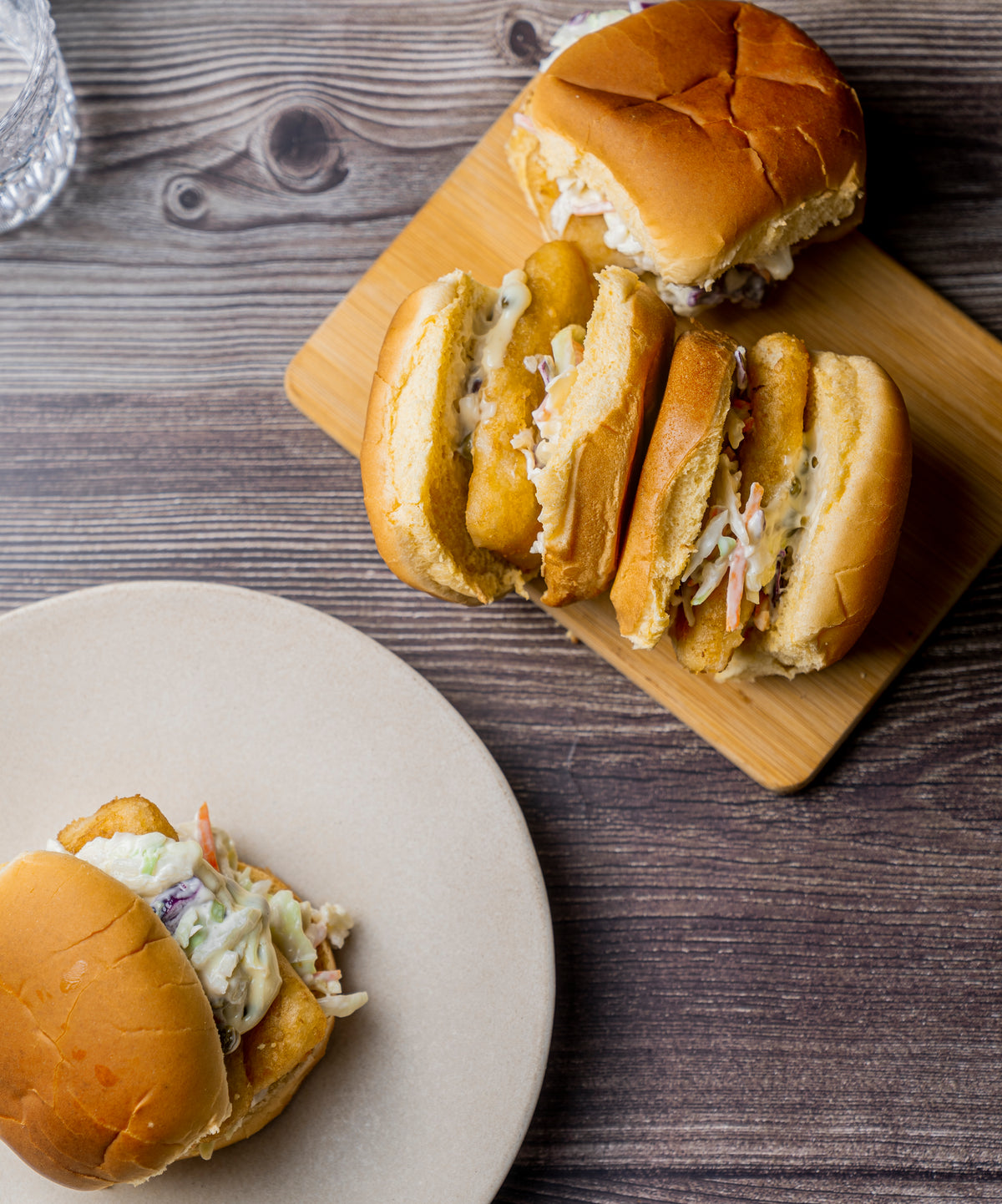 Looking for the perfect weeknight recipe? Sylvia's got you covered with this crispy Fried Fish Sandwich. 
Prep Time: 20 minutes
Cook Time: 50 minutes
Servings: 4 
Ingredients:
For the Slaw:
1 small head green cabbage, shredded

2 c carrot, grated
1 stp kosher salt
freshly ground black pepper 
2 tbsp Dijon mustard
1 tsp granulated sugar
juice of 1/2 a lemon
For the Tartar Sauce:
1/2 c mayonnaise
1 1/2 tsp Dijon mustard
1 tbsp freshly squeezed lemon juice
1 tbsp finely chopped fresh dill
2 tbsp finely chopped bread and butter pickles
1 tbsp capers, finely chopped
kosher salt
freshly ground black pepper
For the Fish:
peanut or vegetable oil, for frying
4 fillets (3-4 oz each) white fish, such as cod or halibut
Bag of Sylvia's Fish Fry Mix
1/2 tsp paprika
1/2 tsp cayenne pepper
kosher salt
freshly ground black pepper
4 toasted buns, for serving
bread and butter pickles, for serving
lemon wedges, for serving
Instructions:
For the Slaw:
Toss cabbage, carrots, salt, and a good amount of black pepper until fully coated. Let cabbage mixture sit for 15 minutes to soften.
In a small bowl, combine dijon mustard, lemon juice, and sugar. Once slaw mixture is slightly softer and more pliable, squeeze veggies in your hands to remove excess moisture. Then, drizzle dressing over veggies and toss to coat.
For the Tartar Sauce:
Preheat oil to 350 degrees in a dutch oven, heavy bottom pot, or deep fryer. In a medium bowl, whisk together 1 c of flour, corn starch, paprika, cayenne, baling powder, 1 tsp of salt, and 1/2 tsp black pepper. Add bear to dry ingredients and mix; the resulting batter should resemble pancake batter. Add remaining 1/2 c flour to a shallow bowl or plate.
Season fish generously with salt and pepper. Working with one filet at a time, fully coat fish in flour, then dip both sides of fish into batter, making sure to let excess batter drip back into the bowl. Then coat fish in flour again, this will help create the craggly, crunchy bits of batter. Repeat with remaining fish. 
Carefully add fish to oil and fry until crispy to the touch and golden, about 8 to 10 minutes. You will likely have to turn the fish occasionally to ensure even doneness. Remove to a paper towel lined plate and season with salt immediately.
To assemble sandwiches, spread a layer of tartar sauce on each half of the buns. Top with fish, slaw, and a few pickle chips. Serve with extra slaw and lemon wedges.