Recipes — sylvia's cornbread and muffin mix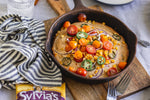 A tasty, veggie filled corn bread starts with a wholesome foundation-- Sylvia's Cornbread Mix! Sweet enough to be kid-friendly, while still getting their veggie intake. Prep Time: 35 minutesCooking Time: 25 minutesServings: 5 Ingredients:1/2 cup cherry tomatoesfresh basil leaves1 sliced jalapeno1 cup fresh grilled corn1/4 cup sliced red onion1 egg1/3 cup milk Instructions:1. Preheat over to 400 F. 2. Empty contents of this package into a medium size bowl. Add 1 slightly beaten egg and 1/3 cup milk. Stir until just combined. Fill greased skillet 1/2 full. 3. Top with ingredients4. Bake 15-20 min or until golden brown.
---
Everything we love all in one! Serve slightly warm with soups, breakfast, or just butter at any point in the day! Prep Time: 20 minutesCooking Time: 60 MinsServings: 10 Ingredients: 1 egg 1/2 cup milk 1 1/4 cup grated cheddar cheese divided 6 or 8 strips bacon cooked to almost crisp and crumbled 1/4 cup vegetable oil 1/2 teaspoon Sriracha hot sauce (use a dash or two of Tabasco Sauce instead, if desired) 1 bag of Sylvia's Golden Cornbread and Muffin mix Instructions Preheat your oven to 375 degrees Fahrenheit. Grease a 12-cup muffin tin well with butter and set aside....